Additional Resources
Additional Resources And Links

Crosswalk Bible Study Tools
This site has a tremendous assortment of bible study tools, many bible versions, commentaries, dictionaries, more.
http://bible.crosswalk.com/

Btelife Musings
The blog accompanying btelife.com.
http://btelife.blogspot.com/

Audio-Bible


Listen to the King James version of the bible online.
http://www.audio-bible.com/bible/bible.html



The Messianic Bible Prophecy Project


Spreading the message of salvation to the Jew unbeliever and the lost. In the process of creating a Hebrew Messianic Prophecy Bible
http://www.messianicbible.com

Christian Search Engine - WeSpreadTheWord.net



LINKING THIS WEBSITE

Btelife.com may be displayed as a resource link on your G-rated site using one of two methods. The descriptive sentence is optional when linking title to url. Or upload banner and link url to the image.

Title: The Bridge To Everlasting Life
Url: http://www.btelife.com
Description: A message of salvation through Jesus Christ, articles, Christian resources, prayer links, links to bible study tools and much more.



Navigation Menu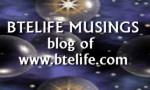 Courtesy of Heartlights